The Driven Data Network ("The DDN") solves the connected fleet data aggregation challenge to unlock new opportunities.
We do this by overcoming the complex legal, technical and business hurdles involved in managing nearly one hundred unique technical and business relationships to secure and normalize data from devices and solutions representing over 80% of connected commercial vehicles in North America.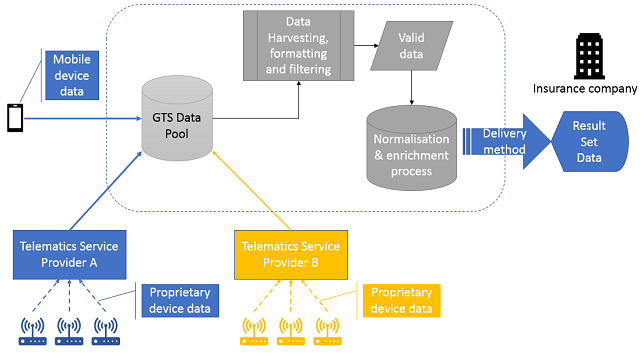 Whether mandated by the Federal government to maintain electronic driver logs (ELD), seeking the operational benefits of knowing vehicle location, or using advanced safety systems like on-board cameras, more and more fleet operators are adding connected data solutions to get more from their assets. While each of these connected solutions has a primary function such as compliance, dispatch, or safety, in the proper context they can each open up secondary opportunities. The DDN is a platform that is designed to unlock these secondary opportunities. Here are three examples: while the primary function of an ELD is legal compliance, there is a secondary opportunity in improved safety; while the primary function of a tracking system is dispatch, there is a secondary opportunity for insurance risk analytics; while the primary function of  connected maintenance data is predictive maintenance, there is a secondary opportunity in maximizing vehicle resale value, and so on.
Leveraging these primary data uses into secondary opportunities requires aggregating the data into a single platform where data can be shared, merged, combined, analyzed and reprocessed for secondary use. For example, vehicle tracking data can be combined with mapping data, claims data, and risk indices, to create insurance underwriting risk scores. These insurance risk scores can then open up attractive insurance alternatives that are able to leverage the improved underwriting insights afforded by connected and merged data. The same principle applies to other secondary opportunities
With nearly twenty years of experience working with over 100 telematics platforms, The DDN has mastered the complexities of integrating disparate and highly differentiated telematics data sources and types to unlock secondary opportunities from data. To grasp these secondary opportunities, data from different primary systems must be aggregated and combined to be delivered to a secondary opportunity. For example, a single fleet's dispatch data can be combined with data from other fleets on other telematics systems to create a broad supply chain visibility solution for shippers.
Doing this requires overcoming the technical, legal and business challenges of working with data sources that vary in data type provided, how that data is structured and defined, the API languages and tools that are provided for integration, the legal parameters around data ownership and licensing economic terms.
The DDN is a technical and business platform that addresses all these aspects in order to ingest and aggregate such differentiated connected vehicles data sources and types. Unlocking the secondary value in this data requires standardized protocols for data activation, analytics and publishing supported by permissions management, visibility and data monetization tools.
Or, to put it more simply, The DDN provides a platform for fleets to share data from their connected vehicles with third parties and to generate the secondary insights that come from combining the data with other data.
How? Let's look at how data is gathered by companies today.
In a closed system (a large freight transportation company, for example), all of the vehicles may use a single type of telematics device to gather and transmit data. The company may have its own proprietary system for analyzing and presenting the data for use by supervisors and others. Or the company may employ one of the nearly 100 telematics service provider (TSPs) companies that deliver data-driven fleet management solutions.

Adding further complexity to the data aggregation process, in addition to PNT data (at varying update rates), the user may want data from dashcams, accelerometers (hard braking/cornering/acceleration), lane incursion sensors, proximity sensors (how close was the vehicle in front), engine RPMs and more.
For a complete analysis of driving performance, the manager needs to understand the environment and context in which the vehicle was driven. What was the route, the time of day, the weather conditions, traffic dynamics, road surface type and incident history? What are the characteristics and capabilities of the vehicle? How do these correlate to driving performance? A cement hauling truck responds differently than a panel van when maneuvering a cloverleaf exit on a freeway.
Therefore, the first step in developing a meaningful driving performance database for analysis and action is to enable the transmission and collection of data from myriad devices and systems.  The Driven Data Network overcomes this data aggregation challenge through its proprietary API. 
In our work with over 90 TSPs and even more individual fleets – over 100 different data streams in all – we have created an API that captures the data needed (whether it is pushed to us from the source, or pulled by us), regardless of how it is formatted, which allows us to aggregate data across multiple fleets and platforms for accurate, meaningful analysis.
Data Normalization Permits the Storage and Analysis of Data from Multiple Sources
Not all telematics devices or TSPs are the same, and neither are their data sets. How the data stream is constructed is up to the individual TSP. As an example one TSP may use 'compass', another may use 'heading' and a third may use 'direction'. These all contain the same data but the aggregator needs to convert these to a standard dictionary. Thus, organizations such as insurance carriers and government agencies looking to access and analyze data from multiple fleets face great challenges. Data from one supplier may not be formatted the same as another, VINs and driver IDs may appear in different fields, or be missing altogether.
Through database normalization, The Driven Data Network team is able to eliminate redundant data, ameliorate data corruption, minimize data modification errors, and simplify the query process. We ensure that data entries are properly organized and fields are standardized, allowing easy data classification, retrieval and analysis.  With so much data from so many different sources and platforms, having a common fields map is essential.Although it sounds simple enough, data normalization can be a complicated process of building tables and linking them together, so that entries are properly scrubbed, sorted and stored, eliminating storage inconsistencies, duplications and anomalies. Effective data normalization requires a thorough understanding of data normal forms and structures, which is where The Driven Data Network excels.